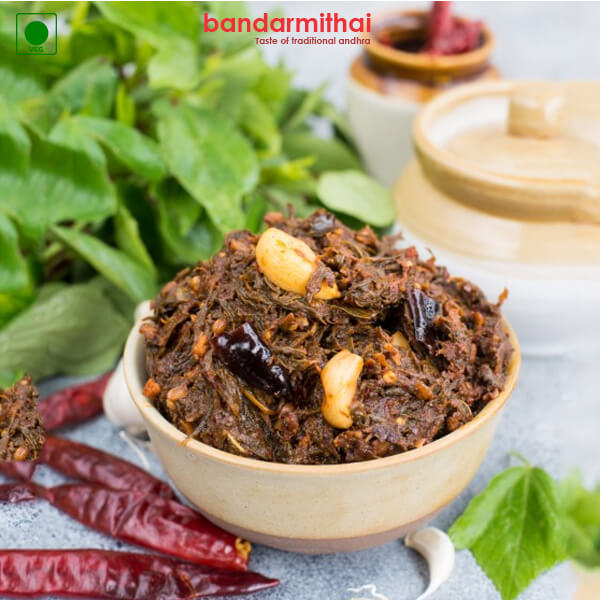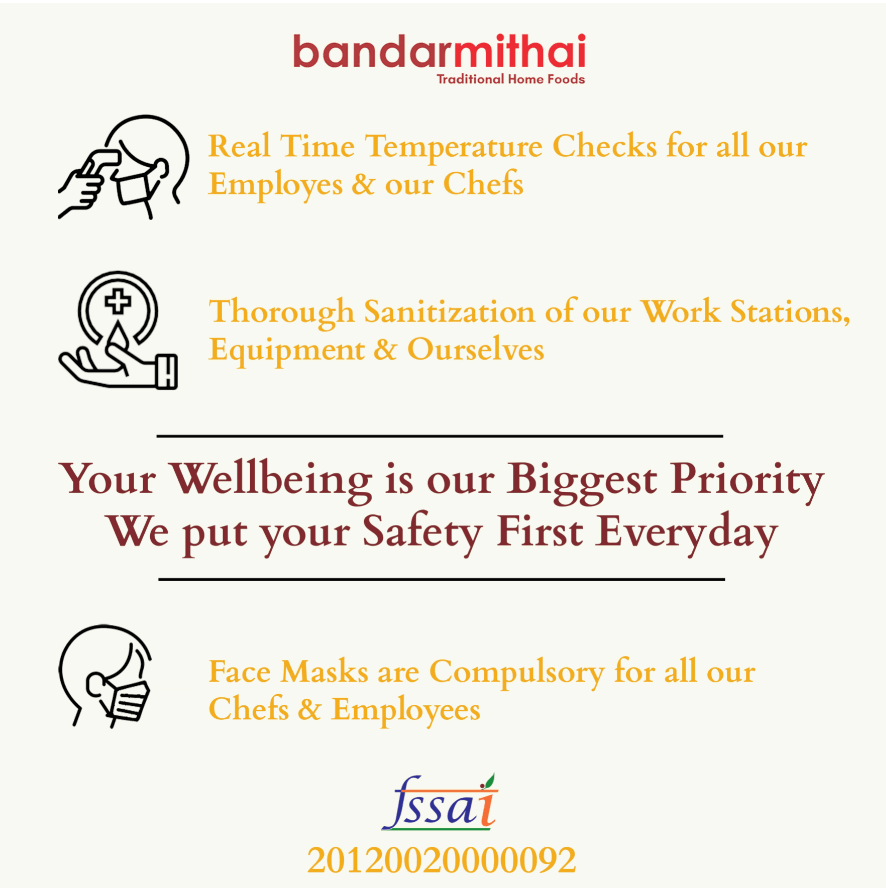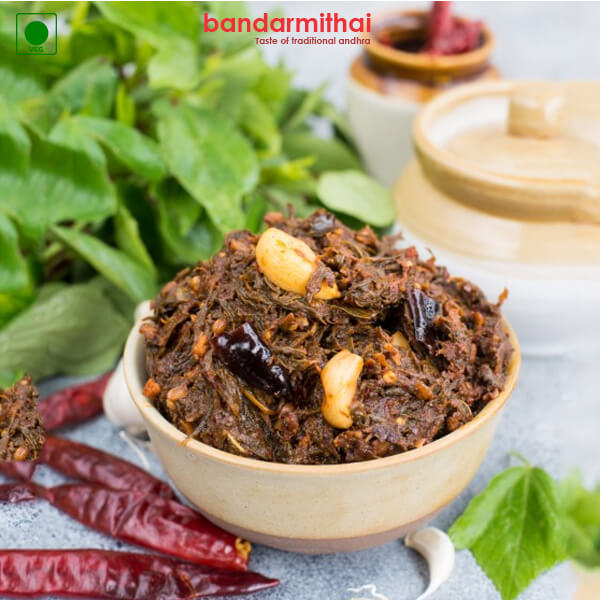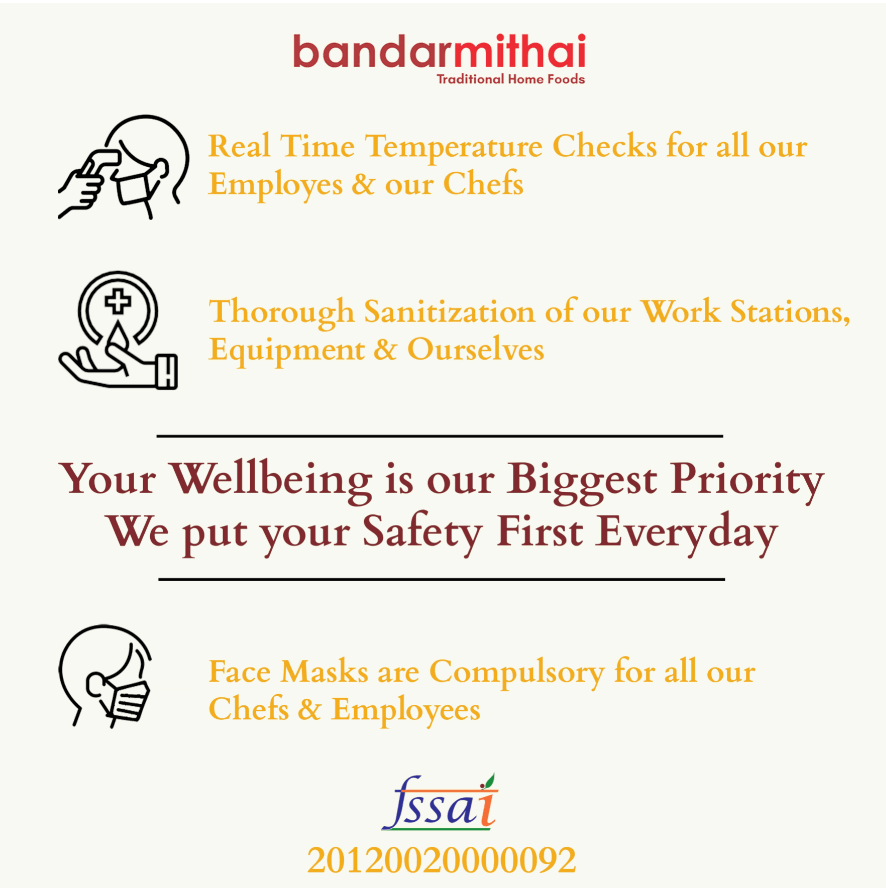 Sale price
Rs. 195.00
Regular price
Rs. 210.00
Tax included.
Estimated Delivery:Dec 03 - Dec 07

Free Shipping: On all orders over ₹ 699/-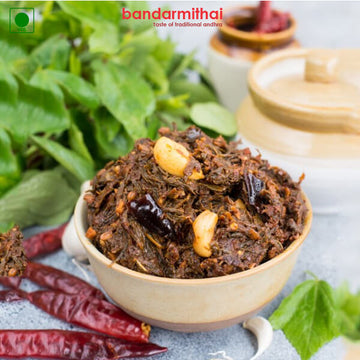 Gongura Pickle
Product description
Shipping & Return
Gongura Pickle, one of the Andhra's favorite pickle. We prepare it in a traditional way using fresh luscious Gongura leaves which is quiet essential for your meal.
Embark on a journey of bold flavors with our exquisite Gongura pickle, available for purchase online at Bandar Mithai Traditional Home Foods. Known for its unique tangy taste and rich cultural roots, Gongura pickle is a culinary delight that adds a distinctive twist to your meals. Discover the convenience of buying Gongura pickle online and elevate your dining experience with a touch of tradition.
Why Choose Gongura Pickle from Us?
1. Authenticity Preserved:
Our Gongura pickle is crafted using traditional recipes, ensuring an authentic taste that captures the essence of this South Indian delicacy. We take pride in preserving the cultural heritage associated with Gongura pickle preparation.
2. Handpicked Ingredients:
The key to great Gongura pickle lies in the quality of ingredients. We use handpicked Gongura leaves and a meticulous blend of spices to create a pickle that stands out for its freshness and flavor.
3. Quality Assurance:
We are committed to delivering the highest quality products. Our Gongura pickle undergo rigorous quality checks to ensure that every jar meets our standards for taste, texture, and freshness.
The Gongura Experience
1. Rich Cultural Heritage:
Gongura pickle has deep roots in South Indian cuisine, particularly in Andhra Pradesh and Telangana. It has been a staple in households for generations, often accompanying traditional meals with its bold and tangy profile.
2. Health Benefits:
Apart from its enticing taste, Gongura is known for its nutritional benefits. It is a rich source of iron, vitamins, and antioxidants, making Gongura pickle a flavorful and health-conscious addition to your diet.
Serving Suggestions and Culinary Tips
Gongura pickle is incredibly versatile, enhancing a variety of dishes. Here are some creative ways to incorporate it into your meals:
1. Gongura Rice:
Mix Gongura pickle with hot steamed rice for an instant Gongura rice dish. Add a touch of ghee for an extra layer of richness.
2. Gongura Paratha:
Stuff your parathas with a generous spoonful of Gongura pickle for a delightful twist. Serve with yogurt or raita for a complete meal.
3. Gongura Dal:
Enhance the flavor of your dal by stirring in some Gongura pickle. The tanginess adds a new dimension to this classic dish.
Elevate Your Palate
As you buy Gongura pickle online from Bandar Mithai Traditional Home Foods, you're not just adding a condiment to your cart – you're investing in a culinary adventure. Let the bold and tangy flavors of Gongura pickle transport you to the heart of South Indian kitchens.
Health Benefits of Gongura / Sorrel leaves

Sorrel leaves, also known as Gongura or Roselle, offer a range of health benefits due to their rich nutritional profile. Here are some of the potential health advantages associated with sorrel leaves:
Rich in Nutrients: Sorrel leaves are a nutritional powerhouse, containing essential vitamins (A, C, B-complex), minerals (calcium, iron, magnesium, potassium), and antioxidants. These nutrients contribute to overall health and well-being.

Supports Digestive Health: Sorrel leaves are a good source of dietary fiber, which aids in digestion and helps prevent constipation. The fiber content promotes a healthy digestive system and supports regular bowel movements.

Boosts Immune System: The high vitamin C content in sorrel leaves acts as a potent antioxidant, supporting the immune system. Vitamin C helps protect the body against infections and enhances the body's ability to heal.

Anti-Inflammatory Properties: Sorrel leaves contain compounds with anti-inflammatory properties that may help reduce inflammation in the body. Chronic inflammation is associated with various health conditions, and incorporating anti-inflammatory foods can be beneficial.

May Aid in Weight Management: With low-calorie content and high fiber, sorrel leaves can be a valuable addition to a weight management or weight loss diet. The fiber contributes to a feeling of fullness, reducing overall calorie intake.

Supports Heart Health: Sorrel leaves contain potassium, which helps regulate blood pressure and supports cardiovascular health. Including potassium-rich foods like sorrel leaves in the diet may contribute to a healthy heart.

Iron-Rich for Anemia Prevention: Sorrel leaves are a good source of iron, an essential mineral for the production of red blood cells. Regular consumption may help prevent iron deficiency anemia and improve overall blood circulation.

Regulates Blood Sugar Levels: The fiber content in sorrel leaves, combined with other nutrients, may contribute to better blood sugar control. Including sorrel leaves in a balanced diet may be beneficial for individuals with diabetes.

Promotes Skin Health: The vitamins (especially vitamin A and C) and antioxidants in sorrel leaves contribute to healthy skin. These nutrients support collagen production and protect the skin from oxidative stress.

Alkalizing Properties: Despite their slightly acidic taste, sorrel leaves have an alkalizing effect on the body once metabolized. Maintaining a slightly alkaline pH is believed to be beneficial for overall health.

May Have Diuretic Properties: Sorrel leaves are sometimes considered to have mild diuretic properties, potentially aiding in the elimination of excess fluids and supporting kidney health.
Order now and bring home the taste of tradition. Elevate your meals, share the joy with loved ones, and immerse yourself in the unique tang of Gongura pickle. Tradition never tasted so good!
Ingredients used in Gongura Pickle:
Roselle (Gongura),  Tamarind (Chinthapandu), Salt, Fried red chilli powder, Turmeric powder (Pasupu),  Fenugreek powder (Menthi pindi), Refined Groundnut oil, Mustard seeds (Aavalu), Urad dal (Minapappu), Bengal gram (Senagapappu), Garlic (Velluli), Fried red chillies, Curry leaves.  
Why are we SPECIAL?
✔ 100% all Natural Ingredients
✔ No Preservatives added
✔ No Artificial Colors & Flavors added
✔ Traditional Recipe
Shelf Life: 6 Months
Storage: Store in cool and dry place. Keep away from direct sun light. Do not use wet spoon while serving.
Serving temperature: Room temperature.
Shipping cost is based on weight. Just add products to your cart and use the Shipping Calculator to see the shipping price.
We want you to be 100% satisfied with your purchase. Items can be returned or exchanged within 30 days of delivery.
A Journey through Traditional Sweets
Preserving the PAST, Sweetening the PRESENT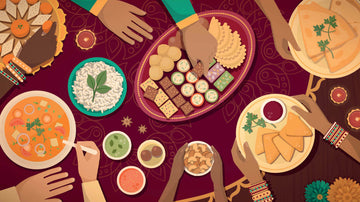 CRAFTING AUTHENTIC DELIGHTS:
Our Mission is to preserve the authenticity of traditional Indian Sweets, using time-honoured recipes and techniques, while adding a contemporary twist to make the healthier.
PROMOTING WELLNESS
We are dedicated to making sweets that are not just delicious but also health-conscious. Our commitment to using natural and wholesome ingredients without compromising on taste reflects our passion for promoting healthier lifestyle.
CULTURAL CONNECTION:
We aim to be a bridge between generations, connecting people to the cultural richness of Indian sweets while catering to modern customers. Our mission is to keep traditions alive through our Sweets.
CUSTOMER DELIGHT:
We are devoted to providing an exceptional customer experience. Our mission is to extend customer expectations by offering superior quality, great service and unique sweet creations.