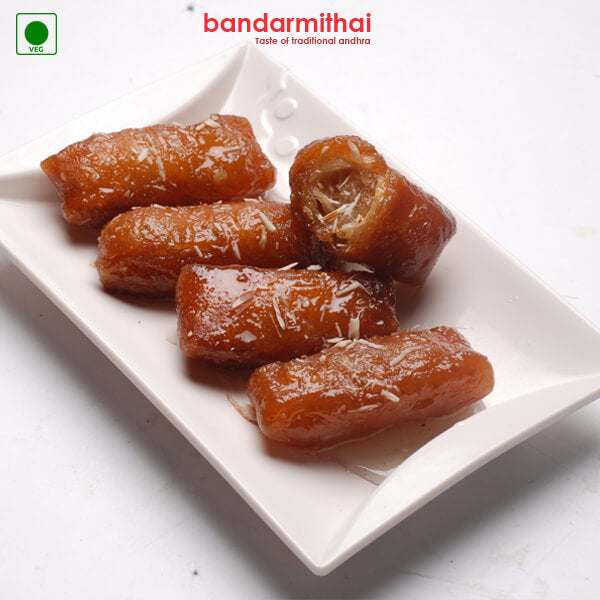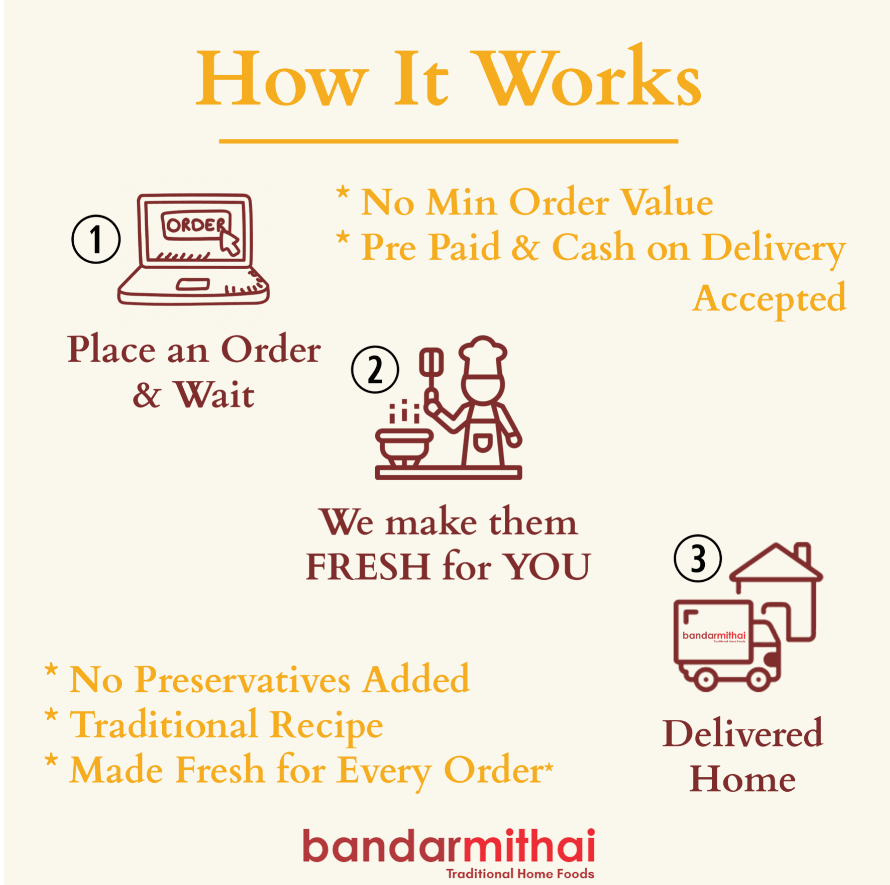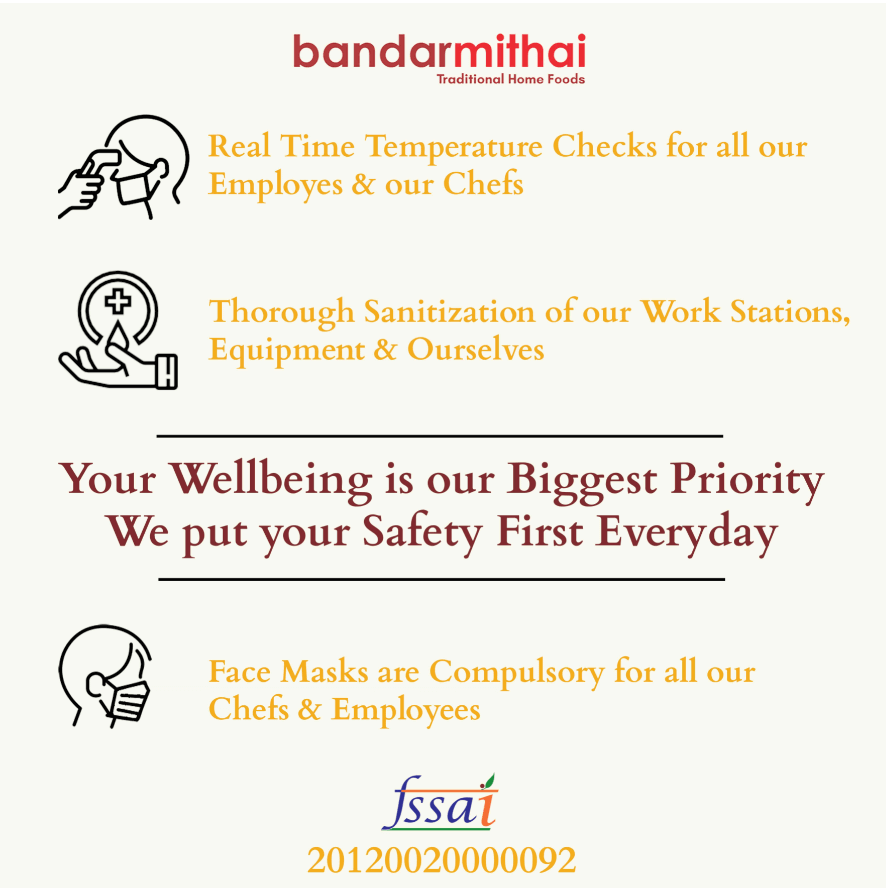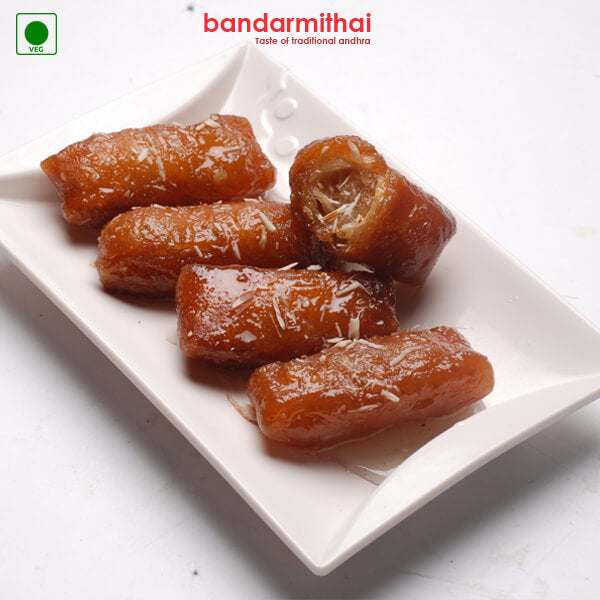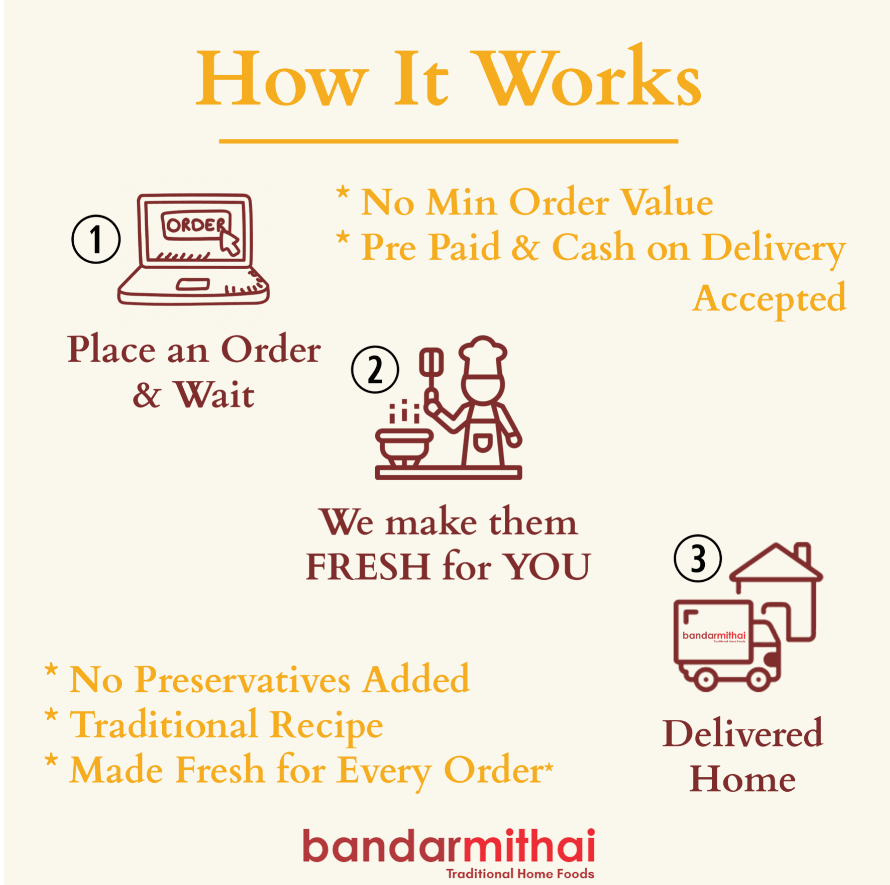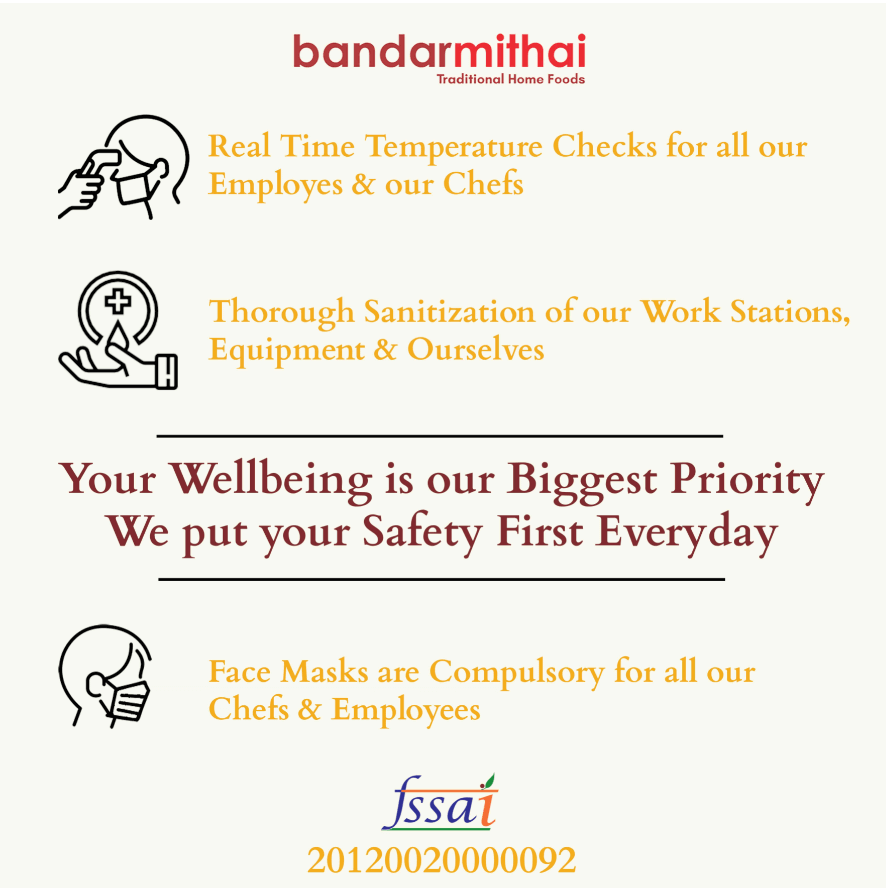 Sale price
Rs. 201.00
Regular price
Rs. 261.00
Tax included.
Estimated Delivery:Dec 03 - Dec 07

Free Shipping: On all orders over ₹ 699/-
Ghee Kakinada Kaja
Product description
Shipping & Return
Kakinada Kaja is an authentic traditional sweet from the Telugu States which is also known as gottam khaja. Our Kaja's are made of traditional authentic ingredients and pure desi ghee with no preservatives added that make our product special. Kakinada Khaja has a hard shell that has a smooth and juicy inner texture that makes everyone enjoy Kakinada Kaja till the last bite irrespective of age group from kids to adults. Kakinada Kaja is the definite traditional lip-smacking sweet. 
Kakinada Gottam Kaja is a traditional Andhra sweet renowned for its unique taste and texture. Originating from the coastal town of Kakinada in Andhra Pradesh, this sweet has become a local delicacy loved by many. If you're looking to savor the authentic taste of Kakinada Gottam Kaja, here's what makes it special:
The Essence of Kakinada Gottam Kaja
1. Texture : Kakinada Gottam Kaja is known for its distinctive texture. Each bite offers a delightful combination of crispiness and melt-in-your-mouth goodness.
2. Rich Ghee Flavor: The use of high-quality ghee is a hallmark of Kakinada Gottam Kaja. It imparts a rich, buttery flavor that enhances the overall taste of this sweet.
3. Syrupy Sweetness: To achieve its unique taste, Kakinada Gottam Kaja is soaked in a light sugar syrup, adding just the right amount of sweetness.
4. Artisanal Craftsmanship: Crafted with precision and care, Kakinada Gottam Kaja is a result of artisanal expertise passed down through generations. Skilled hands meticulously prepare the dough and create the layers that make this sweet truly special.
Why Choose Kakinada Gottam Kaja?
1. Authenticity: Our Kakinada Gottam Kaja is made following the authentic recipe, ensuring that you experience the true essence of this Andhra sweet.
2. Premium Ingredients: We use the finest ingredients, including pure ghee, to create Kakinada Gottam Kaja that meets the highest standards of quality.
3. Handcrafted Freshness: Every batch is handcrafted to ensure freshness and the genuine taste of this traditional sweet.
Enjoy Kakinada Gottam Kaja Anytime, Anywhere
Tea Time Delight: Pair Kakinada Gottam Kaja with a cup of hot tea or coffee for a delightful snack during your tea time.

Celebrations and Festivals: Include Kakinada Gottam Kaja in your festive sweets collection, adding a touch of Andhra sweetness to your celebrations.

Gifts for Loved Ones: Surprise your friends and family with the unique taste of Kakinada Gottam Kaja. Our sweet boxes make for thoughtful and memorable gifts.
Relish the Flavors of Andhra
As you order Kakinada Gottam Kaja from our online store, you're not just purchasing a sweet; you're experiencing the rich culinary heritage of Andhra Pradesh. Indulge in the layers of flakiness and the sweet symphony of flavors that make Kakinada Gottam Kaja a cherished treat.
Ingredients  Used In Kakinada Kaja:
Pure Desi Ghee, Pistachio nuts, Almonds, Cashew nuts, sugar, All-purpose flour, and cardamom.  (We use only Handpicked Premium Ingredients).
Shelf Life: 8 Days
Pieces per Kg: 32 - 36 (Approx)
Storage Instructions: Store in a cool and dry place. Keep away from direct sunlight.
Storage Temperature: Room temperature
Serving Temperature: Room temperature
Texture: Smooth & Medium-hard
Place of Origin: India
Alternate Names: Gottam Kaja
Course: Snack, Dessert
Occasions: Must have sweet in Marriages & in all Festival times
Disclaimer:
- All the accessories and properties used in the image are for reference purposes only
- Actual products may vary in shape, size & color
Shipping cost is based on weight. Just add products to your cart and use the Shipping Calculator to see the shipping price.
We want you to be 100% satisfied with your purchase. Items can be returned or exchanged within 30 days of delivery.
A Journey through Traditional Sweets
Preserving the PAST, Sweetening the PRESENT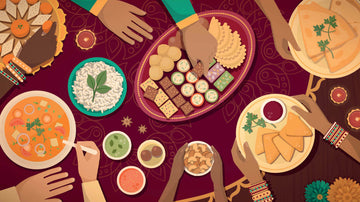 CRAFTING AUTHENTIC DELIGHTS:
Our Mission is to preserve the authenticity of traditional Indian Sweets, using time-honoured recipes and techniques, while adding a contemporary twist to make the healthier.
PROMOTING WELLNESS
We are dedicated to making sweets that are not just delicious but also health-conscious. Our commitment to using natural and wholesome ingredients without compromising on taste reflects our passion for promoting healthier lifestyle.
CULTURAL CONNECTION:
We aim to be a bridge between generations, connecting people to the cultural richness of Indian sweets while catering to modern customers. Our mission is to keep traditions alive through our Sweets.
CUSTOMER DELIGHT:
We are devoted to providing an exceptional customer experience. Our mission is to extend customer expectations by offering superior quality, great service and unique sweet creations.